Posted by  David J. Marks July 31, 2014
I believe that design is the ultimate frontier in woodworking.  We live in a time that finds many people with the resources to set up a shop at home. It is amazing to see how many people are able to outfit their shops with a lot of the tools they need due to the fact that the majority of power tools are now made in China and have become affordable to the masses.
So once we all have shops and we all have similar tools and wood, the question is: How do we differentiate our work from someone else's?

How do we create individual designs that makes the statement that this person's work is unique and deserves to be recognized as an object of art?
Most of us take life for granted, the daily routines leave us without a sense of magic. So Imagination is the first challenge for anyone attempting to design something outside the box.   I do recommend an excellent book titled "Sparks of Genius" the thirteen thinking tools of the world's most creative people.  You will discover that most of them had a skill for distracting their minds and playing as a way of increasing their creative skills.
I believe that there are many components to good design but they are also directly related to the craftsmanship and skill of the maker.  Just like a fine painting, the excellence of and the skill of the painter is just as important as the vision of the painter.
I got started in woodworking in 9th grade shop class in New Jersey where I lived until I was 20.  For reference, I was born in 1951.   I'm left handed and seemed to have a talent for art so I took art classes learning to draw throughout high school.
In 1971 I moved to northern California.  By 1981, I had opened my own workshop/studio.  The following year I took classes with Art Carpenter, Gary Knox Bennett and many others from the Baulines Craft Guild located in the Bay Area of Northern California. These classes changed my life.  I was introduced to numerous techniques like using router templates, making frame and panels, working with exotic woods, bending wood, creating mock ups to hone in on design and proportions, combining metal and wood, all of which had a huge influence on my designs.
I was determined to dedicate myself to increasing my skill levels until I could be considered a Master Craftsman.
As the years went by, I continued to take weekend workshops with as many Master Craftsman as I could as I journeyed further and deeper into the world of contemporary furniture.    Some of those workshops were given by James Krenov, Art Carpenter, Wendell Castle, Sam Maloof , Bob Stocksdale , Gary Knox Bennett, as well as a Japanese master named Makoto Imai that I was able to study with.    Google any one of those names and you will see firsthand some photos of some amazing work by true Master woodworkers.
All of these woodworkers have left lasting impressions and major influences on my career.
In 1989 I was juried into the Baulines Crafts Guild at a Master Craftsman level.  As a master member I could teach apprentices through their program. Teaching became another excellent way for me to learn more and increase my own skill level.  Through watching others struggle and trying to find ways to make the path easier for them, I developed and refined my own skills and found ways to speed things up and go further out on a creative limb.
The Tutankhamun exhibit was on display in San Francisco back in the 1979.  After viewing the display first hand, the impressions were so deep that I have been compelled to explore ways to incorporate some of those images into my own work.
I also did some furniture making for an artist and he advised me to study Egyptian artifacts from the ancient tombs as a way of further developing my own artistic visions.  I designed and made a table that  I titled "Ancient Egyptian Inspired table".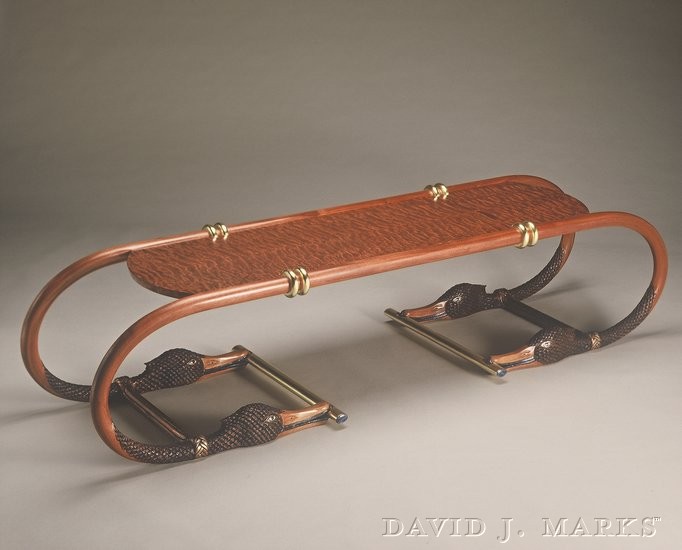 I invested approximately 800 hours of labor into this one piece.  It won Best in Show at the Artistry in Wood exhibit in Santa Rosa 1991.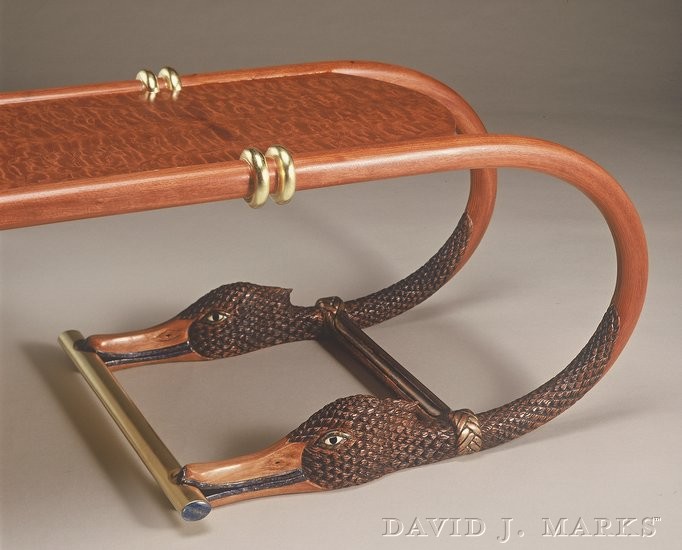 My desire is to create art simply for the sake of art.   I want the viewer to stand back and allow the piece to take them someplace other than where they are.   When I have traveled to the Metropolitan Museum of art in New York, I have seen pieces that have left me in awe.
My sense is that I want to create things that have mystery and leave someone wondering how it was made and how could anyone even imagine the possibility of such a thing being created.  Yes these are lofty goals, this is what excites me most in life.
I hope that you find this helpful as you struggle with your own goals of improving your design skills.
Please follow and like us: