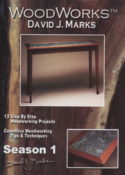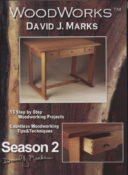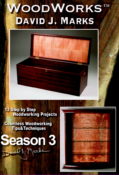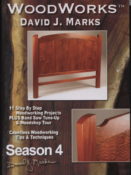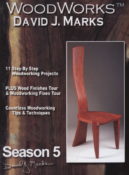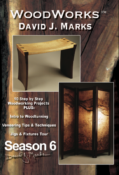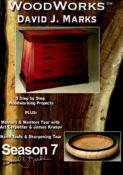 WoodWorks Seasons 1 thru 7 DVDs
"The best archive of woodworking information available anywhere!"
Gary,
Newton, Kansas

"I absolutely love the Woodworks DVDs. Not only is the production quality excellent but the educational value is truly exceptional. I say this as a person who owns most of the educational woodworking tapes out there!"
Raja
Lawrenceburg, Tennessee

David J. Marks hosted the television show "WoodWorks," which featured step-by-step instructions for building contemporary studio furniture that he designed specifically for the show. WoodWorks aired on DIY (Do It Yourself) on satellite and cable. Everything was videotaped on location in David's woodworking studio located in Santa Rosa, CA. David taped 91 episodes of Wood Works that spanned 7 seasons. To view the projects built on Woodworks:
Season 1 Projects
Season 2 Projects
Season 3 Projects
Season 4 Projects
Season 5 Projects
Season 6 Projects
Season 7 Projects
David employs a combination of techniques on WoodWorks using both hand and power tools to design and build pieces which feature the use of exotic and domestic woods in ways that highlight their color and grain. He also incorporated metal leaf and a chemical patination in some of the projects. Countless viewers have stated that David's unique style and fine craftsmanship made the show not only informative, but inspirational.
About his style David says, "My work expresses a sense of time and mystery. My inspiration is derived from a fusion of styles including ancient Egyptian, African, Art Nouveau, Art Deco and Asian. But essential to all my designs is the attention I pay to fine details."
David's philosophy is that what sets fine furniture apart from the rest is attention to detail, such as grain matching, strong joinery, good proportions, well thought out designs, and fine finishes.
Every episode is jam-packed with woodworking tips and techniques that serve as a valuable reference library of woodworking information.
In our eStore are the most popular WoodWorks project plans, plus individual episode digital downloads, and full Season DVDs that you can purchase and add to your permanent woodworking reference library. The digital downloads and full Season DVDs, both being added a season at a time, have been reformatted to present optimal viewing quality. This is the way WoodWorks was meant to be viewed; no commercials, no station identification breakaways, just top quality woodworking content.
[php_everywhere]