Time is Relative
2008
Pernambuco, poplar, silver leaf, dutch metal leaf and copper with patina, 35″ in diameter x 3.5″ deep.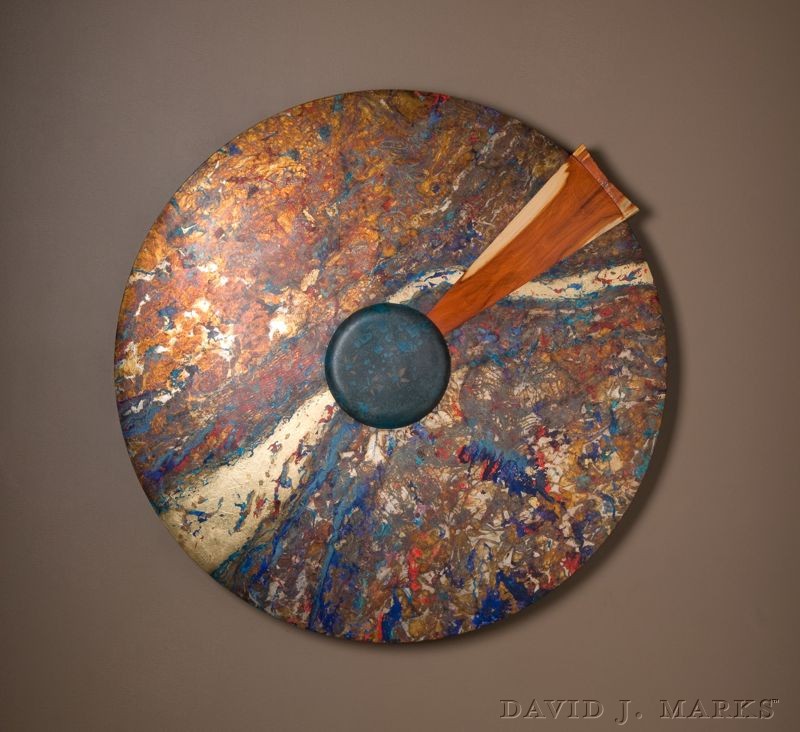 Many years ago I was contacted by an art agent whom had seen my work on the web.
It turns out he was looking for a piece for The World Bank  in Maryland. We discussed the parameters and he wanted something similar to a previous piece I had made, titled "Time".
He said be creative and feel free to use lots of color on this piece. I really enjoyed adding multiple layers of color in the form of base coats of japan paints, silver leaf, composition gold leaf, various chemicals for patinas, wash coats of dyes and mica powders, all buried under and in between many, many layers of water clear lacquer.
The centerpiece is a copper disc that I did a cold patina on and then waxed. The wood arm is pernambuco from Brazil that I cut, fit, glued and turned to symbolize an arm on the clock face of the Universe.